BEST ONLINE CASINOS INDIA
Indian Deposit Options
Visa and MasterCard Review
Royal Panda is Best for Credit Cards
Credit cards like Visa and Mastercard are used around the world and are very familiar to those used to online transactions. When they work, they are extremely fast to use for deposit. However, for Indian players they can be extremely unreliable unless you play at Royal Panda Casino. If you want to play at other Indian gambling sites, we recommend ewallets.

See our page on depositing from India to find other methods that are more reliable such as Neteller and Skrill.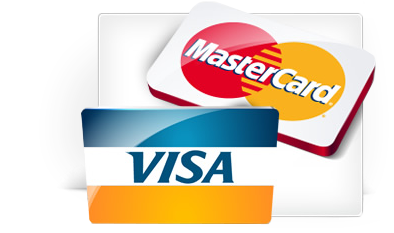 VISA/MasterCard Overview
Credit cards have become the world's dominating force in anything related to purchases both online and offline; specially with the two major names: VISA and MasterCard (within many others). People use them almost everywhere; it would seem that paying in cash for anything just does not happen very often anymore given the security risks associated with it and lack of available funds. The reason they are so popular is the fact that they allow their users the flexibility and security that one would want when shopping or buying something online. The great thing about the VISA or MasterCard credit cards is the fact that they can work globally.
Whenever you want to deposit funds into your Indian friendly online bookmaker, you can use either of those credit cards to do so, VISA or MasterCard. They are versatile enough, but they do have certain issues that make them less reliable than other payment sources.
How to Use VISA/MasterCard
Using a VISA or MasterCard to deposit or withdraw funds from your bookmaker account is easy enough to do, and the great thing is that it is quite fast. The steps to actually deposit or withdraw using these cards are:
1. Go to your account in your favorite bookmaker
2. Click on the Deposit/Withdraw button that can easily be found (it is all over the website)
3. You will need to fill out some personal information which includes:
a. Name that appears on the card
b. Correct address that is associated with your card
c. Card number
d. Card expiration date
e. The CVV code (security code) that is on the back of your card
4. Select the amount that you wish to deposit
5. Once the transaction has finalized, you will get a confirmation code
6. Check your bookmaker account to make sure the funds are there
In some cases, certain online bookmakers may have you take a few more steps in order to verify and validate a credit card transaction to avoid cash-backs and/or fraud (as it happens a lot with scammers out there). They will ask for an identity verification, which you can send their customer service department. You can send them a copy of your:
• Passport
• National Identity Card
VISA/MasterCard Fees
This is a very general topic when it comes to finding out what the fees are when using a VISA or MasterCard. The reason is due to the fact that each bookmaker decides what fees to place on this option. Most bookmakers follow the same general rules regarding the credit card fees.
Depositing fees and times:
• VISA: Free and Immediate
• MasterCard: Free and Immediate
Withdrawing fees and times:
• VISA: Free and 1 – 3 Banking Days
• MasterCard: Free and 1 – 3 Banking Days
As you can see, most bookmakers online prefer that their members use the credit card option, as this is the fastest and easiest method when transferring funds. However, there are certain limits on the amounts you can deposit and withdraw, and you need to take that into account.
Who Should Use Credit Cards
Credit cards are great. They are versatile, easy to use, and are one of the fastest methods of depositing money into a bookmaker. The downside is that for online gambling transactions, you must get approved by the bank backing your card first. So, the people that would use this option are:
• Punters whose banks allow for these kinds of monetary transactions to happen using their card and services
• Punters that are not going to transfer large quantities of money at any given time
Even though depositing and withdrawing using a credit card is fee free on behalf of the bookmaker, it may still have certain fees on behalf of the bank. Sometimes these fees can get pretty high when you are using them to bet with. As such, some punters prefer using their credit card through a 3rd party, such as an ewallet, to make their deposits and withdraws.
How to Create an Account
More than creating an account, it is acquiring a credit card. Credit cards are most often given by banks and financial institutions. As such, you will need to do the following:
1. Go to your local bank or financial institution, such as:
a. ICICI Bank
b. Punjab National Bank
c. State Bank of India
2. Open a bank account with them
3. Pick up a credit card form
4. Fill out all of the information including,
a. Name and Address
b. Bank account information
c. Job information
5. Once you have been approved by the bank, you will be given a credit card
6. You will need to ask them about their individual policies regarding transfers into bookmakers
Credit Card Tips
Seeing as how credit cards are a great option to use when depositing and withdrawing funds from a bookmaker, there are several tips that you should know about.
• If you want to use credit cards from India, the best place to play at is Royal Panda. They only offer casino games, but if this is what you are looking for, they the highest credit card acceptance rate among all Indian online casinos.
• Using the credit card directly with a bookmaker will definitely cut down on your fees, but you must be sure that your bank/credit card backer does not have any legal limitations regarding gambling transactions.
• If you are unable to use your credit card directly with your bookmaker, you can always use them to deposit funds into third parties, such as ewallets like Skrill or NETELLER. You may have some fees, but they will allow you to continue doing what you like, betting on sports.
• There could be reward programs associated with your credit card, so by making transfers could win you points or bonuses.
• Use the credit card option when you need to deposit money into your account the same day you need it. The quick processing time will place your funds into your account almost immediately (a few minutes).
Visa/MC Brief
Available to Indians
No Transaction Fees
High Trust and Security
Extremely Fast
Not Reliable for Betting