BEST ONLINE CASINOS INDIA
Indian Deposit Options
Skrill (Moneybookers) Review
www.skrill.com
We recommend Skrill for a variety of reasons. They are a dependable deposit service and have the lowest fees among ewallets. They are a solid deposit option for Indian players. Also see Neteller, as we recommend both of these.



VISIT SITE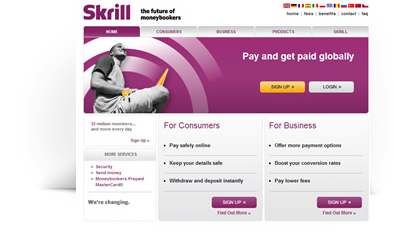 Skrill (Moneybookers) Overview
With the amount of online bookmakers and online casinos that cater to punters from India being so extensive, and increasing, there is a need for better, quicker, and safer methods of depositing and withdrawing money. Skrill is the new name for the eWallet commonly known as Moneybookers, which is a third party, online banking option that you can use to transfer funds into your bookmaker accounts. It has the added bonus of being able to do so in many different currencies, one of which is the Rupee. Currently many bookmakers only allow certain types of methods to be used, and Skrill is perfect since it allows punters and bookmakers to interact while diminishing the risk on either end.
How to Use Skrill
Using Skrill is actually very simple to use; once you get past the lengthy sign up procedure. To deposit funds into your Skrill account you would:
1. Sign into your www.skrill.com account
2. Click on the 'Deposit' or 'Transfer Funds' button
3. Select you preferred method of depositing
a. International Bank transfer
b. Credit/Debit Card
4. Fill out the necessary information for either option
5. Bank transfer info includes
a. Bank account
b. Bank routing number
c. SWIFT code (only given to you by your bank)
6. Credit/Debit card info includes
a. Name
b. Address
c. Card number
d. Security code (on the back of the card)
7. Select the amount you wish to deposit, keeping in mind the minimum and maximum amounts allowed
In order to withdraw from Skrill, you would follow the same instructions as above, but instead of selecting the amount you want to deposit, you would select the amount you want to withdraw in the "withdraw funds" tab, instead of the depositing tab.
Skrill Fees
There are always fees associated with using 3rd party services. The fees can be divided into depositing, withdrawing, and transferring.
Depositing fees:
• International Bank Transfer: Free
• VISA or MasterCard: 1.90%
Withdrawing fees:
• International Bank Transfer: 131.78 INR
• Cheque: 256.24 INR
Transferring fees are free when you transfer from your Skrill account to a merchant, which in this case would be your bookmaker; also bear in mind that the skrill moneybooker fees hit a cap, so you will not pay a % of your total transfer amount, but instead to a cap of like $1 USD or other.
Who Should Use Skrill
Skrill is one of the bigger and more popular ewallets, but this does not mean it is right for everyone. Most of the punters that use Skrill is due to several factors:
• They do not want to deal with bank statements regarding the direct transactions between their bank account and the bookmaker.
• Want to make safe and secure transactions online without having to personally use their Debit or Credit card. This will keep their card information much safer than directly putting into the website/bookmaker.
With the ability to use your Skrill account as a virtual credit card, many members prefer to use this method to do all of their online purchases. This is a great online option for managing your money and being able to keep it in a different place other than a bank.
How to Create a Skrill Account
To create a Skrill account you need to go through several steps and input different information. The steps are:
1. Go to www.Skrill.com
2. Click on the 'Sign Up' button
3. Select your country of residence (India) and your preferred language
4. Input your personal information including:
a. Title and Full Name
b. Street Address, State/Region, Postal Code, City/Town
c. Phone Number
d. Date of Birth
5. Select the Currency (Indian Rupee INR) and language
6. Your email address and desired password
The final stage is to verify your identity with Skrill. This can be done by sending a verified copy of your:
• Passport
• National Identity Card
They need to be certified by a certain official entity, like the police or a notary public.
Skrill Tips
For those that will be using Skrill, there are a few helpful hints to help you get a better experience.
• Check to see if your bookmaker has any fees associated with depositing or withdrawing funds through a Debit or Credit card. If they do, compare that fee against the Skrill fee. Whichever is lower, use that option, it will save you money in the long run.
• With Skrill's flat fee for withdrawing money through an International Bank Transfer of 131.78 INR, it is a much better deal to withdraw the maximum amount allowed or the highest possible amount you have in your account. This will make withdrawing money worth the fee.
• Make sure to input all of the correct personal information when signing up to Skrill. This will help avoid difficult situations such as verifying your identity and with withdrawing funds. No one wants to lose money due to a small error.
• If you have the time to wait, you should use the International Bank Transfer to deposit all of your funds. This will take anywhere from 1 to 5 days to transfer your money, but there would be no fees to pay.
SKRILL BRIEF
Accepts Indians
Allows INR Transfers
Lowest Fees for Ewallets
High Trust and Security
Set-up Takes Time
SKRILL FUNDING OPTIONS
VISA
MasterCard
Bank Transfer

VISIT SITE