BEST ONLINE CASINOS INDIA
Indian Deposit Options
Neteller Review
www.Neteller.com
Neteller is one of our favorite ewallets and deposit options playing from India. It is an industry leader in the ewallet service, offers reasonable fees and is accepted by most major online gambling sites. We recommend both Neteller and Skrill to all our players.



VISIT SITE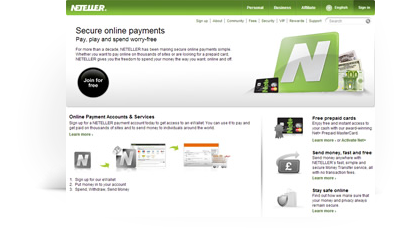 Neteller Overview
NETELLER is an online banking solution, an ewallet, for many punters located around the world, as for example those in India, which they do not have many options for when they want to deposit money into their bookmaker's accounts, but this is a perfect option available for Hindi gamblers. It is considered an eWallet since it is a banking middle man between different services online, such as bookmakers and the people that want to perform any type of financial transaction, such as satta gambling. It is completely free to sign up and create an Indian NETeller account, and almost all of the online bookmakers accept NETELLER transactions for depositing and withdrawing (outside of the US).
How to Use Neteller
Using NETELLER is quite easy to do, once you get through the sign-up process. The steps you should take in order to use NETELLER are:
1. Sign-up/Log in to your www.neteller.com account.
2. Click on the 'Deposit' button.
3. Select from among different options for deposit, including:
a. Bank transfers
b. Credit/Debit card deposits
4. Input the amount you wish to deposit, as well as what currency, in our case Rupees.
5. Request the transfer.
Neteller Fees
With any online banking service, there will always be certain fees associated with depositing, withdrawing, and transferring funds.
Depositing Fees
Some of the fees for depositing money into NETELLER are:
• International/Local Bank Deposit: Free
o You can use banks such as State Bank of India, ICICI Bank, and Punjab National Bank
• VISA /MasterCard: 1.75-4.95%
• eWire: 1.5%
• Ukash: 3-7%
Withdrawal Fees
The fees for withdrawing money from NETELLER are:
• Bank Draft: 7.5 – 25 EUR
• Bank Transfer 7.5 EUR
• Cheque: 7.5 EUR
Transfer Fees
When using NETELLER to transfer funds into your bookmaker or wanting to transfer funds from your bookmaker to NETELLER, it is completely free. This is great for you that want to start using NETELLER to transfer your funds in and out of your online bookmaker account.
Who Should Use Neteller
Certain punters would prefer to use NETELLER over the other banking methods due to the easy access and availability of their services. People wanting to use NETELLER tend to be those that:
• Do not want to wait for the long bank transfer process (taking up to 5 days).
• Want to transfer funds in Rupees safely.
• To keep their banking history and transactions separate from their regular banking, especially when involving online gambling.
In other words, anyone that simply does not want to deal with banks. This ewallet is especially good for those of you that do not really transfer large amounts of money to gamble with. As the fees are high when it comes to depositing and withdrawing, it would be better for low to medium money transfers. This service is also great for those of you that want to use NETELLER for other financial transactions other than for betting, as you can use the services as if it was a virtual credit card.
How to Create a Neteller Account
In order to sign up on NETELLER you must follow certain steps:
1. Go to www.Neteller.com
2. Click on the 'Join for Free' button to start the process.
3. Enter your email address, country of residence, and the type of currency you want to use, Rupees is available..
4. You will now enter personal information such as:
– Your full name
– Street address
– Phone number
– Gender and date of birth
5. Select a password for your account; make it something you will not forget but isn't easy to decipher.
6. Select and answer the security questions.
7. You will be given an Account ID and a Secure ID.
You can now start navigating through NETELLER and check out all of the different options you have for depositing and withdrawing in Rupees.
Tips for Using Neteller
After signing up, using NETELLER can be very advantageous to you. This is why there are certain tips you could use to enhance your experience.
• If your bookmaker has high fees for depositing from your bank account, you can use NETELLER:
– They have no fees when you deposit using a bank transfer.
– They have no fees when you transfer funds from your NETELLER account to your bookmaker account.
• The best way to fund your NETELLER account when possible is by using a bank transfer to send money directly from your bank account to your ewallet. This is usually free, while other methods such as credit cards range between 1.75% and 4.95%.
• Decide which currency you plan to use for betting purposes. We recommend using Rupees as your transaction currency and trying to use only gambling sites that accept rupees. NETELLER has a fee for converting currency, so using the same currency that you or your bank uses will eliminate that fee. Using rupees all the way through will eliminate this fee altogether.
• Don't forget about the different options you have when depositing and withdrawing, and whenever possible, use the options that do not have any fees.
– Deposit using a local or international bank transfer
– Withdraw using a money transfer or simply use NETELLER to purchase items online
NETELLER BRIEF
Accepts Indians
Allows INR Transactions
High Trust and Security
Set-up Takes Time
NETELLER FUNDING OPTIONS
VISA
MasterCard
Bank Transfer

VISIT SITE