BEST ONLINE CASINOS INDIA
Indian Deposit Options
Best Ways to Deposit in Indian Rupees
When gambling on different sporting events, including the obvious sports cricket and football, playing poker or casino games, we prefer to do so in Rupees instead of dollars, pounds, or euros.  There are many different kinds of banking options that gamblers can use to deposit Rupees into their betting accounts, including Credit Cards and eWallets, as well as Debit Cards and Bank Wires.
Speaking of deposits, learn which online casino has the best bonus offers!
eWallets
eWallets are online banking services that act like a third party between the punter and the bookmaker. The eWallets that are widely used by bookmakers are Skrill (Moneybookers), NETELLER, and Entropay. These can be accessed online and will be available to any of you that want to deposit and withdraw funds in Rupees.

To create an ewallet account, simply visit their site, sign up using your information, and you will be able to use them as if they were a bank or a credit card. While you are signing up, you will have the option of selecting the currency you wish to use on your transactions, where you would simply pick Rupees; some bookmakers may restrict the use of these, so make sure you check which ewallets are eligible for India before you deposit money into your ewallet. Skrill and Neteller offer their service to Indian residents.
As we mentioned before, Ewallets are a great alternative to credit cards. They are actually the preferred banking method for Indians who place bets online. Once you establish an account, you can fund this ewallet account using credit cards and bank transfers. Simply add and verify the credit card or bank account you wish you use. Once this is complete, you will be able to use your preferred method to transfer money to your ewallet account and withdraw it when you need it.
Once your ewallet account is funded, you will use this account for your gaming transactions. This is an extra step versus using credit cards or bank transfers directly, but there are very good reasons for doing it this way.
Benefits of Using an Ewallet:
* You don't have to reveal any credit card or bank account information to the betting site. We only recommend the most trusted sites for online gambling, but ewallets do give an added layer of security for the player since you will be using the ewallet to deposit and withdraw from the betting site, rather than directly with your credit card or bank account.
* Your transactions are more private. If you bank directly with gambling sites using your credit card or bank account, the transaction will often name the site you are depositing or withdrawing from. When you use an ewallet, the name of the ewallet will appear on your credit card and bank statements instead, since you are using the ewallet to transact with the betting site.
* More reliable than credit cards. As we mentioned before, credit cards can be unreliable when used directly with gaming sites. Ewallets provide a great way for players to have the convience of credit cards along with the added benefits of using an ewallet.
* Less expensive than wire transfers. If you are using wire transfers directly, many sites will allow one free wire a month. However, banks often charge for this service on each transaction. The fees tend to be around 1250 INR. Which is a fairly high fixed cost. Unless you are deposing in larger amounts, this can get very expensive compared to how much you are wagering. Ewallets provide much lower transaction costs. Skrill tends to offer the lowest fee structure charging as little as 1% on certain transactions.
Credit Cards
The most used and popular credit card being used in India for sports betting is VISA. Some also use Master Card and Maestro. This option tends to be quick and easy for punters, but there may be complications on the credit card end of things. Most credit card agencies, like banks, want to make sure a transaction is truly authorized, especially if it has anything to do with online gambling. They way they go about this makes it extremely difficult in most cases to use this method.
Still, if you are looking to use credit card deposits, online satta sites do accept them.
The best site for using credit cards from India is royalpanda.com. Really, we wouldn't even bother using credit cards at other sites for satta. Royal Panda Casino has nearly a 100% acceptance rate when it comes to credit card deposits from India. The other sites are lucky to get 50% which can be extremely frustrating.
At other sites, using this method tends to be unreliable for many Indian players. Even if a transaction goes through, it may not the next time you try. This can be extremely frustrating. If you find that credit cards are unreliable, or you are looking for a good alternative, we highly recommend ewallets such as Neteller and Skrill. Take a look at the section above for more information on ewallets.
In order to use the Credit Card, you will simply have to fill out the pertinent information at your online bookmaker when you wish to deposit funds. You will need to use the correct name and address that is attached to your card, as well as inputting the essential security information such as the card number, expiration date, and the CVV code; which is on the back of the card. Once you have entered the amount you want to deposit, make sure that it is in the currency you want to use for deposit. When they work, credit card deposits are fast and pretty simple, but we prefer other methods that we will explain below.
Debit Cards
Debit cards work in a very similar way as credit cards do, with the exception of taking money out of your bank account directly instead of waiting; in other words, if you have the rupees, the funds, then the transfer will go through in a shorter period than with credit cards (usually). The process to get a Debit card is the same as well, simply head over to your local bank, sign up for an account, and then you can request a Debit card from them. You will use the debit card to deposit Rupees into your bookmaker account by filling out the deposit form with all of your personal and banking information; it must be correct or the transfer will be declined. You will simply enter the debit card information, expiration date, and the CVV code, and finally the amount of Rupees you wish to deposit. Remember that in order to deposit in Rupees, the bookmaker has to accept this form of currency.
You can try to find local (smaller) banks in your area that can offer you these services; sometimes the smaller banks are actually the easiest to use when depositing at gambling sites, since they have less restrictions to your transactions.
We have found these banks to be good to work with: State Bank of India, Punjab National Bank, Bank of India
Bank Wire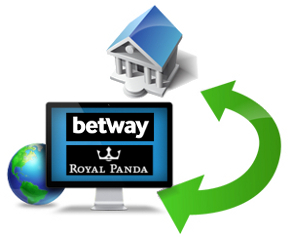 A bank wire is when a punter transfers money directly from their bank account to the bookmaker. To use this method, punters would have to contact their bank or go to their bank personally and request a transfer. From there they will need to know several different key pieces of information so that the money goes to the right place. These transfers tend to be slower, taking hours and even days to take place and show up on the online bookmaker account. This is an extremely safe method, without taking into account any human error like writing the bookmaker codes wrong, and may have certain fees associated with it on behalf of the bank.
You could try going to any of the local or national banks, like State Bank of India, ICICI Bank Limited, or even Punjab National Bank. These have branches all over India that are able to perform the wire transfer or even give their members Credit and Debit cards they can use. It is always a good idea to go to any of your local bank branches and see their policies on money transfers.
Bankwires are best for players who transfer large sums of money because they have fixed fees for the transaction of around 1250 INR. This of course makes is less attractive for those who only deal in smaller amounts.