BEST ONLINE CASINOS INDIA
Indian Deposit Options
Entropay Review
www.entropay.com
While we recommend ewallets to Indian players, we generally don't favor Entropay. It is a well respected ewallet, but it does carry large fixed fees. Typically it is best for players who want to make very large deposits. However, for most players we recommend Neteller or Skrill.



VISIT SITE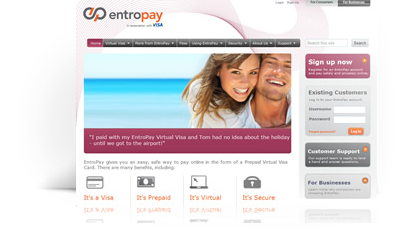 EntroPay Overview
Depositing and withdrawing funds from the different online bookmaker's that cater to punters all over India is made very easy with EntroPay. EntroPay is an online banking service that helps transfer funds from the punters' funds into their accounts at the bookmakers. For those of you who do not have any experience with Entropay, it works in a very similar manner as other e-wallets like Skrill and NETELLER. There is an advantage for you to use EntroPay though – similar to other ewallets-, and that is the fact that they can use their account for more than just transferring funds. They have a built in virtual VISA system, where punters in India can actually use their account to purchase items online. There is a downfall to having added perks and features, and it is that they come with higher fees than other e-wallets, but then again, you are getting more perks for your rupees.
How to Use EntroPay
EntroPay is used exactly just like any other e-wallet, so you will need to create an account with them first by going to www.EntroPay.com. You will need to fund your EntroPay account before being able to deposit rupees into your bookmaker. The steps to using EntroPay are simple:
1. Sign Up/Sign In to your EntroPay account.
2. Input your banking information;
a. Your bank account, Routing number, and Account Number(s).
b. Your Credit/Debit Card information depending on the method you are using to deposit rupees into Entropay.
3. Input the amount you desire to transfer into your EntroPay account.
4. Wait for the processing time:
a. For bank transfers , it can take from a few hours to a few days.
b. For Credit/Debit transfers it takes a few minutes.
5. Proceed to your Indian friendly bookmaker and choose the EntroPay option for deposit.
6. Input your EntroPay account information, along with the total amount of money you want to deposit.
EntroPay Fees
Deposit Fees:
Keep in mind, the betting sites do not charge fees for using this method, but Entropay does have some fees. This is a charge for using their ewallet service. Keep in mind, Entropay does have the highest fees compared to other ewallets, so you may want to check out Neteller or Skrill for better options when it comes to fees.
There are certain fees you need to take into account when depositing money into your EntroPay accounts, such as:
• Load an EntroPay card from Debit or Credit Card: 4.95%
• Receive money from a merchant onto an EntroPay card: 1.95%
• Foreign Exchange Fee: 2%
Withdrawal Fees:
Just as there are certain fees to deposit, there are certain fees you will have when you want to take money out of your EntroPay account:
• Return money to your Credit or Debit Card: $ 6 / £ 3 / € 4.50
The great aspect of EntroPay is that you do not have any fees when you use their card for purchases or for depositing into a bookmaker; apart from the currency exchange fee.
Who Should Use EntroPay
EntroPay is great for those Indian players and wagers that want to keep their finances private, as well as those that do not mind the additional fees, such as those that will come from depositing a great deal of rupees. High roller punters can use this service, and can even use it to purchase other items, and not just to deposit into their bookmaker. It is a versatile service that comes with some fees, but the choice is ultimately yours.
How to Create an EntroPay Account
To create an EntroPay account, go to www.EntroPay.com to start the process.
1. Click on the "Sign Up" button
2. Input the required information, such as:
a. First and Last Name
b. Email
c. Desired User name and Password
d. Date of Birth
e. Country of Residence (make sure you have proof, like bills, bank account statements – just in case)
3. Finish registration process and create the account.
Once you have signed up, you can now load money into your account by using your Credit or Debit Cards. This entire process could take some time, but once you have an account, it will be very fast and easy to deposit and withdraw funds from your EntroPay account.
EntroPay Tips
• Bettors wanting a plastic card from EntroPay are out of luck, as they are no longer available. However, you can still use the Virtual Visa account to make all of your deposits into your favourite bookmakers.
• Be aware of the various fees and regulations that EntroPay has, and seeing as how their fees are higher that other ewallets, make sure to compare the pros and cons to determine which is the best option for you.
• You can use the Virtual Visa card to make more than just bookmaker deposits, such as online purchases. Use this to your advantage, along with the Zero fees for purchasing and using the virtual card.
• Make sure you are on a secure website by checking to make sure the URL or address starts with a 'HTTPS', as you will be inputting personal and banking information.
• If you have any problems with your account, like it being frozen or having problems with money transfers, contact the EntroPay customer service as they will be able to help you quickly and efficiently.
ENTROPAY BRIEF
Accepts Indians
High Trust and Security
Highest Fees for Ewallets
Set-up Takes Time
ENTROPAY FUNDING OPTIONS
VISA
MasterCard
Bank Transfer

VISIT SITE